Personal Treatment
Plans for Every Patient
Our practice is dedicated to providing
friendly interventional pain management services.
Comprehensive
Patient Care
We use minimally invasive procedures
to diagnose and treat a range of pain conditions.
Informative, Detailed
Patient Care
We help patients understand their diagnosis
so they can participate in their treatment decision.
Results-Oriented
Pain Care For Patients
We continually embrace medical innovation
to improve our patients' overall quality of life.
Our interventional pain management approach helps patients return to their everyday activities more safely.
Your time is valuable, so download new patients forms here, plus learn what to expect for your first office visit.
Contact us for questions about our services, to setup an appointment, or for directions to our office.
Note: We have immediate availability for appointments.
Your pain is real. I'm here to help.
At Pain Medicine Specialists of Arkansas located in Little Rock, we recognize our patients' pain is real. That is why my goal is to relieve, reduce and help manage my patient's pain and improve their overall quality of life.
I am a board-certified anesthesiologist who specializes in pain medicine and spine intervention procedures. In fact, I use minimally invasive procedures specifically designed to diagnose and treat a range of pain conditions. I am a fully licensed physician here in the great state of Arkansas, fluent in both English and Spanish.
My personalized treatment plans put patients first in a clinical environment that emphasizes compassionate patient care. I help patients understand their diagnosis because I want them to be able to actively participate in their treatment decisions.
If you are experiencing pain, feel free to call my office at (501) 451-2500 to set up an appointment for a consultation. I believe you will be pleased with our approach to personalized pain care.

Credentials of Excellence & Innovation
Research Article by Dr. Julio Olaya
Neuropathic Pain: The Deceptive Syndrome
One of the most common, and unfortunately poorly understood, diagnoses in chronic paid medicine is neuropathic pain, and it is widespread in the U.S.
As a result, Dr. Olaya often provides insight on such topics by contributing his years of hands-on experience and medical knowledge to the pain medicine community in the form of writing research articles about various pain-related topics in leading industry publications.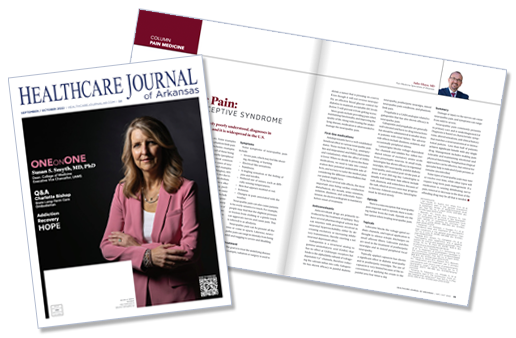 At Pain Medicine Specialists of Arkansas, our goal is to provide every patient the opportunity to obtain the personalized interventional pain management treatment they need. We are dedicated to partnering with you and your insurance provider to reach that goal.
If you have any questions about the insurance policies we accept, please call our office at (501) 451-2500 to find out how we can partner with you to begin your healing process.
What Our Patients Are Saying
"Dr. Olaya is caring and kind and VERY experienced. I went to him for unrelenting back pain and 2 thoracic epidural shots. Later the pain was gone and stayed gone for almost 2 years now. I tell everyone I run into that has pain to go see him."

"Dr. Olaya is very professional and takes great care of his patients."

"Dr. Olaya seems to really care about helping with your pain instead of rushing you in and out like cattle. The staff is also very nice and patient to help."

"I always found Dr. Olaya to be very caring which is way more than most doctors in the pain management field!"

Contact us using the form below to request an appointment.